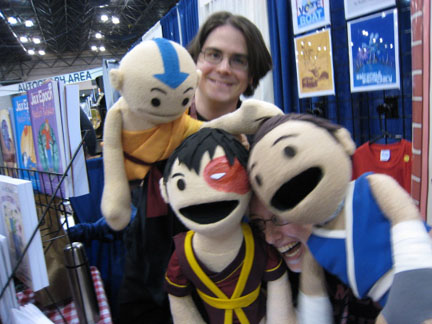 A billion thanks to everyone who came out to the NYCC...especially those who came to the Friday Nick Mag panel or swung by the Comics Bakery to say hello. I'm still buzzing on the great time. Special props must be given to the amazing puppets by Kevin Coppa aka alternatecoppa.
I posted a bunch of photos and a con summary here:
[link]
There are links to all the fan stuff we showed here:
[link]
In other big project news...over at
About.com
there is a report (with photos) from the Del Rey panel at NYCC where they debuted some character designs from the X-Men manga that I am co-writing with my wife, Raina.
"...Then [Del Rey publisher] Dallas Middaugh showed Anzu's version of Hank McCoy, a.k.a. Beast, and audible gasps and giggles rippled through the crowd. "Anzu's version of Beast shows how far we've re-imagined the basic premise of the X-Men story," said Middaugh as he showed off a very Totoro-esque, cute 'n cuddly badger version of the blue n' furry hero who's one of the professors at the Academy. Can't wait to hear the fanboy blogosphere let it rip on this one -- but it's a bold move that shows how much Del Rey is committed to appealing to the tastes of manga readers versus catering to the superhero crowd."
To that end,
Blog @ Newsarama
has clearer versions of designs along with LOTS of feedback from readers.
Of course, I'm a big fan of Anzu's designs and think they reflect the story really well! But I've also read the script.

This is the first time I've seen the designs for Wolverine (he'll appear in a separate book than the one Raina and I are writing) and thought they looked cool, too! I like the direction they are going for and think it shoud work really well as a action-based shonen series. Looking at the criticism, it's clear fans still expect the characters to reflect the pre-existing versions they are familiar with. Which for the most part will not be the case.
"Del Rey's approach was to ask the authors to strip the premise of the X-Men story down to its essentials, and start from scratch from there. These creators were freed up to explore different aspects of these iconic characters and put them in manga-inspired situations, without the burden of decades of Marvel Universe continuity."
The main thing Raina and I are hoping for is to write a book that captures the spirit of everything we love about the X-Men mixed with the expressive opportunities of manga storytelling. There will be more focus on the emotions of the characters and also a lot more light-hearted humor...and chibis! The goal is a book that is fun! And thus you get Beast as an overstuffed badger who walks like a penguin!

Last note:
I'll be at the Stumptown comics fest in Portland Oregon this weekend! It's an amazing alternative comics and art festival that has so many great people attending and doesn't cost that much to get in. It should be super-rad!
[link]