Why I hope people will pick up the new Avatar magazine and help share the love of the show with their friends.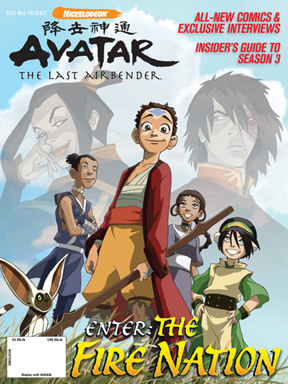 As some of you may or may not know, I work at
Nickelodeon Magazine
as a comics editor and we just finished up an All-Avatar magazine that will be released on newsstands September 18th (only a few days before the Season 3 premier!).
Avatarspirit.net
has a really great preview up with several comic pages you can read.
As a huge fan of the Avatar show, this was a dream job for me as well as my co-editors Andrew Brisman, Chris Duffy and all the other people involved. All of the talented writers and artist who worked on it really put their ALL into making something we (as well as the the creators of the show) could be proud of. It is also a complete love letter to the fans. And several contributors who worked on it actually came from the fan community:
*Isaia
(aka Kim Miranda) Best known for her "It's Avatarded If" series which was profiled in the first Avatar magazine. Isaia has created an awesome 2-page spread for the magazine featuring skewed versions of Avatar history.
*AliWildgoose
(aka Alison Wilgus) Perhaps the best example of someone who continually blurs the lines between the worlds of fandom and freelance! Ali is well known for her fics, cosplay and DeviantArt as well as her work on the show Kids Next Door and comics for the Life Meter anthology. For the magazine, she wrote the Super-Deformed comic story, contributed to the Zuko comic script, created 2 pages of unique puzzles, and was a consultant throughout. She also appears in the cosplay section!
~BlackKrogoth
(aka Tina Lam) Tina appeared in the first magazine in her Azula costume, and was our intern at the office this summer. Perfect timing, as she started working here just as things started cooking for the new Avatar mag. With her ninja-like skills and her pulse on the fandom, she ended up being an invaluable asset to the magazine team.
*rufftoon
(aka Johane Matte) Her awesome comics have made her beloved by all Avatar fans, and even helped her get a gig on the show. She's an integral part of the Flight Comics Anthology, which connects most of the folks that have worked on Avatar comics so far. Johane is also responsible for the HP Fanbook.
And if that wasn't enough…the new Avatar magazine features 3 pages dedicated to Avatar fan art and cosplay. This section will profile a ton of artists who you will recognize from your DeviantArt favorites page. Most of these will be their first time in print! This is one of those things that no one asked us to do but we all worked hard to make happen. There is so much fantastic art being created in the fan community that it deserves to be seen by as many people as possible!
So because of this, and a million other obvious reasons, I hope this magazine does REALLY well. But sadly that is not necessarily a sure thing. Last years Avatar magazine only did "okay." And even though Andrew and I have been jumping at the chance to do a follow-up, it wasn't until now that we were able to do so. Partially to blame for the last magazine's moderate sales, was the fact that the show still wasn't as well known (episodes still weren't shown daily, and the DVD box set wasn't even out yet). Also the state of the magazine business (and print in general) is having a hard time these days, whether because of printing costs or the rise of the Internet, I have no idea. But that's why every sale of the magazine does COUNT in showing your support of what we created and also the Avatar TV show itself. You may not know anyone with a Neilson ratings box in their home (which is the biggest determining factor of a show's success), but you do have direct purchasing power. If the Avatar issue outsells our Spongebob or FOP issues, we have a lot more leverage to do more of them. So yes, I'm completely shilling here. I really hope that people go out and buy as many copies of this thing as possible. Get one for yourself and your overseas friend! Don't be embarrassed because it's a "kids' magazine!" Be proud! Look how badass the cover is! Plus, cartoons are cool now (Simpsons movie!), and most grown-ups love Avatar once they really give it a chance.
I know people like to scan things and read them online for free. It certainly makes sense for people outside of America who will have a hard time tracking the magazine down. Obviously I don't condone this at all. But I also know I can't stop it. So I hope people will wait until the magazine is at least no longer on the newsstands. Until then, please encourage people to seek out physical copies of the magazine. Out of respect for the artists, the art and colors look SO much better when you see them in person. And with magazines you can easily take them anywhere for maximum reading comfort. Even on the toilet!
Here are some specific details to help clarify any confusion out there:
Nick Mag Presents…Avatar: The Last Airbender
"Enter the Fire Nation"
On sale September 18th, 2007
52 full color pages
Only $4.99
The best place to find the magazine is a newsstand or at a "smoke shop" that has a diverse magazine section. Often it will be in the kids' section. Barnes and Noble, Borders, Chapters, etc. tend to be even better stocked. Often, Blockbuster Video and grocery stores carry them too. Sometimes they can even be found for sale on eBay.
The All-Avatar Magazine is not a regular issue of Nick Mag and does not replace the September or October issues (which will have Barnyard and the Naked Brothers on the covers, respectively). Avatar is a separate magazine that is part of our Nick Mag Presents series. You will not get it as part of the regular Nick Mag subscription unless you are also a member of the upgraded Nick Mag Club (in which you get the extra mags that are all comic- and Nicktoon-based).
INTERNATIONAL AVATAR FANS:
Please send a check or money order, made out to Nick Magazine, for $10.99.
($4.99 cover price plus $6.00 shipping and handling for one copy) Please include a letter stating which issue you are requesting.
AVATAR BACK ISSUE:
Within the US -
Please send a check or money order, made out to Nick Magazine, for $8.99.
($4.99 cover price plus $2.00 back issue fee plus $2.00 shipping and handling for one copy) Please include a letter stating which issue you are requesting.
Outside the US -
Please send a check or money order, made out to Nick Magazine, for $12.99.
($4.99 cover price plus $2.00 back issue fee plus $6.00 shipping and handling for one copy) Please include a letter stating which issue you are requesting.
WE DO NOT ACCEPT CREDIT CARD ORDERS OR PAY PAL AT THE HOME OFFICE. All funds must be in US Dollars.
These requests can be sent to:
Nick Magazine
1515 Broadway 37th Floor
NY, NY 10036
Attn: Jesse Ann Pirraglia
You can subscribe to the monthly Nick Mag right off the website:
www.nickmag.com
(Just scroll to the bottom link and specify US or international.) We do occasionally run Avatar comics, like the hilarious one that Rufftoon drew for the August issue. And we often run info about upcoming episodes, and do interviews with people on the show. It's also just a really fun and creative magazine. But I'm biased!
So again, all help spreading the word is greatly appreciated!
If you plug the magazine on your site please let me know so I can thank you! I also encourage everyone to spread your love of the Avatar show among your friends and family. Not in a crazy fan way. But in a "I want to share with you something that means a lot to me so we can have more to bond over" kind of way! There are still SO many people out there who have not yet taken the time to watch Avatar. That's what viewing marathon parties are for! Lend people your DVDs if you know they love well-done animation, action shows, anime, eastern philosophy, Harry Potter, and great stuff in general. Encourage downloading via iTunes rather than bit torrent! Every registered download or sale really helps determine how well a show is doing. And as you know sometimes really well done, mature shows don't thrive easily on kids' networks. But that can change if people really get the word out!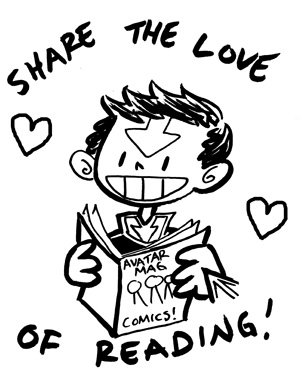 Okay, enough shilling from me...and back to work on the next round of DVD mini comics by day...and drawing webcomics at night.